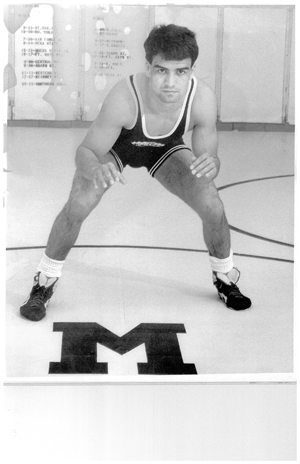 College wrestling was a lesson in perseverance for Ed Gallegos '92, whose dedication and skill earned him All-American honors and a sixth-place finish at the 1991 NCAA Division II National Wrestling Championships.
"Wrestlers face a lot of injuries that keep them out of competition. But even when you do get on the mat, you find that your stomach is full of nerves or your muscles are nagging you, the conditions are never absolutely perfect," says Gallegos. "But you have to get out there and do it, even when you are tired or you don't feel good."
The determination to press on even when circumstances are less than ideal is a trait Gallegos attributes to his days as a wrestler at Mines' and one that continues to serve him well as owner of Oklahoma-based Territory Resources, an independent oil and gas firm. Through the Grinder Scholarship, which he established last spring with a $105,000 endowment contribution, Gallegos aims to ensure that future generations of Mines students continue to have opportunities to hone their competitive instincts and learn the value of commitment. The scholarship provides valuable financial support for student-athletes on Mines' varsity wrestling team.
"Academic courses prepare you to create a solid business plan, but wrestling prepares you better to survive in business when things don't go according to plan," he says. Supporting Mines' wrestling program is Gallegos' way of showing his continued pride in the program and of paying tribute to former Coach Jack Hancock for helping to shape Gallegos' own work ethic and drive. "There are people out there who think that winning doesn't matter, but it absolutely matters. If you're going to compete, you should focus on winning in wrestling and at work."
Scholarship funds allow Mines to recruit athletes who boost the wrestling team's competitive profile and who excel in the classroom. Last year, the wrestling program was ranked ninth in the NCAA Division II Wrestling Coaches Association's All-Academic Top 15 list.
Former Head Wrestling Coach Dan Lewis, who continues to serve as an assistant coach, says, "Ed Gallegos is one of the nicest, most generous people I know, as well as a very humble and caring individual. The endowment Ed created is deeply appreciated and extremely important to the wrestling program. We're already seeing the impact of his gift and are looking forward to the benefit it will bring to Mines' student-athletes for generations to come."
Erica Siemers