2018-19 Season Highlights
RMAC team championships (the most in conference history)
consecutive RMAC All-Sports Cup Victories
Student-athlete degree recipients
Among the elite
In college athletics, the NCAA's Elite 90 award represents the absolute best of the best when it comes to scholar-athletes. The award is given to just one recipient in each of the NCAA's 90 sanctioned sports across all three divisions, recognizing the student-athlete with the top GPA at each championship. It's an exceptional achievement for an institution to win one in a year, and in 2019, Mines track & field came away with two.
Ben Schneiderman '17 and Megan Wenham '19 took home the outdoor track & field Elite 90 awards in late May, making Mines the first school in NCAA Division II history to win both the men's and women's awards in the same year.
Schneiderman holds a 3.96 GPA and is working on his master's degree in metallurgical and materials engineering. He finished his track career as a First-Team All-American in the 10,000-meter run.
Wenham finished an incredible Mines career with an unblemished 4.0 GPA, receiving her bachelor's degree in mechanical engineering in May. She was also a First-Team All-American in the steeplechase and was named the RMAC's Female Scholar-Athlete of the Year in early June.
Running on the world stage
Former Mines distance running standout Andrew Epperson '14 is headed to one of the biggest events in world athletics this fall after being selected to the United States marathon team for the International Association of Athletics Federation World Championship. One of just three American men selected for the field, Epperson will run in Doha, Qatar, on Oct. 5, 2019. He had previously competed in the 2016 U.S. Olympic Trials and qualified twice for the Chicago Marathon, finishing as high as 12th in 2016.
Epperson is currently an assistant coach for Colorado State University's cross country and track & field teams, and the Houston native served in the same role at Mines before moving to Fort Collins. As a student-athlete at Mines from 2010-14, he was a two-time cross country All-American and qualified for the NCAA Division II National Championships in both the indoor and outdoor 5,000-meter run and the outdoor 10,000-meter run.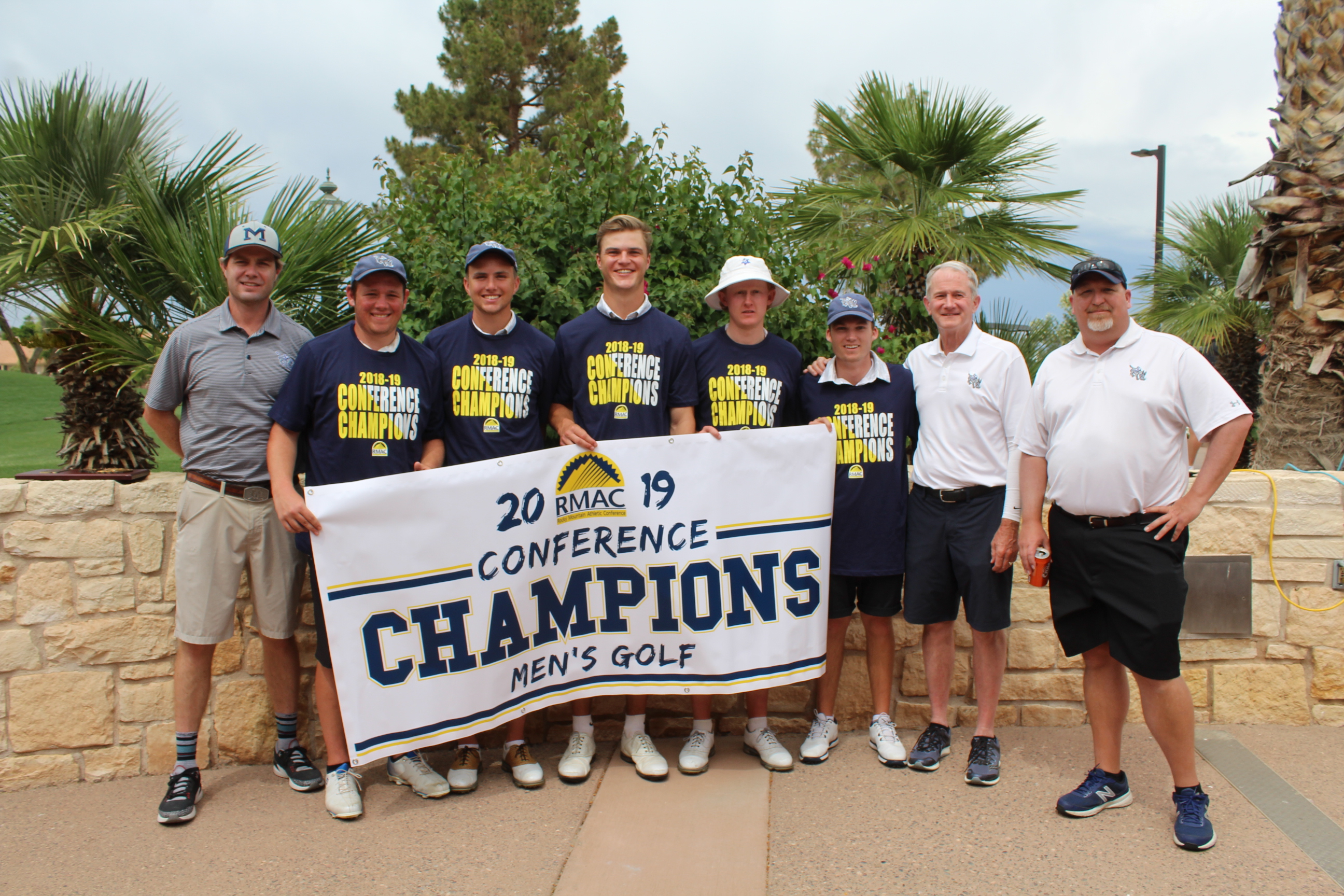 Golf, track & field continue their winning ways
The spring season proved to be a successful one in 2019 as two Oredigger teams defended their conference titles from the year before.
Under the leadership of RMAC Golfer of the Year George Markham and RMAC Coach of the Year Tyler Kimble, Mines golf ran off a string of four consecutive tournament wins in the spring, culminating in their victory at RMAC Championships. For the second straight year, the Orediggers won by a single stroke after 54 holes—this time over nationally ranked Dixie State—as Nic Beno, Markham, Tim Amundson and AJ Berry all finished in the top 10 individually. It was the first time in 51 years that Mines won consecutive RMAC Tournament championships and their seventh overall. The Orediggers went on to earn a berth to the NCAA Regional Championships.
The men's outdoor track & field team claimed its second consecutive RMAC Championship with a dominating effort at the conference meet in late April, outclassing the field by 40.5 points to win back-to-back outdoor crowns for the first time in program history. The women's team also finished a best-ever second as the two teams combined for nine gold medals. The Mines men later reached their highest national ranking ever at No. 2, while both the men's and women's programs achieved successful NCAA Championships appearances with a combined 10 All-America finishes.
Johnson named chair of RMAC Executive Committee and Presidents' Council
President Paul C. Johnson was named the Rocky Mountain Athletic Conference Executive Committee and Presidents' Council Chair on June 3, 2019. Johnson will serve a two-year term leading a five-president council made up from the 16 members of the RMAC. He will have responsibility for making interim decisions and instituting immediate actions in emergency situations which involve the best interests of the conference, an active member institution or a student-athlete. Johnson will also recommend to the Presidents' Council any legislation, eligibility rules, regulations or policies, along with several other duties.